"Succeeding in business, in sports, in your life, is a matter of pulling together people you can trust, who are honest, who have their priorities in line, who have the talent, ambition, and desire to reach beyond themselves and make something really big happen – particularly when the pressure's on."

-Roger Staubach
Former NFL Al-Pro Quarterback and Executive Chairman at Jones Lang LaSalle
Defining Mental Toughness
Mental toughness is having the natural or developed psychological edge that enables you to generally cope better than your opponents with the many demands that sports place on a performer. Our research has shown that these same traits also contribute to successful, high-performing salespeople.
Get your free guide from @CaliperCorp to learn how you can build your all-star #sales team by developing #MentalToughness Click To Tweet
For 30+ years, Caliper has worked with general managers and coaches to assess potential draft picks and recruits. We've taken what we've learned in the arena, and applied it to the workplace.
Download the Guide to Build Your All-Star Team
Why do some salespeople with the same observable attributes—education, experience, network, domain knowledge— flourish at the next level while others don't seem to reach their sure-fire potential? With the help of Caliper Analytics, organizations are delving below the surface to find more quantifiable performance measures beyond "they have a lot of experience" or "they really know what they're talking about." Caliper's assessment data can help you better understand your employees and job candidates, and what's their potential to be successful in their job.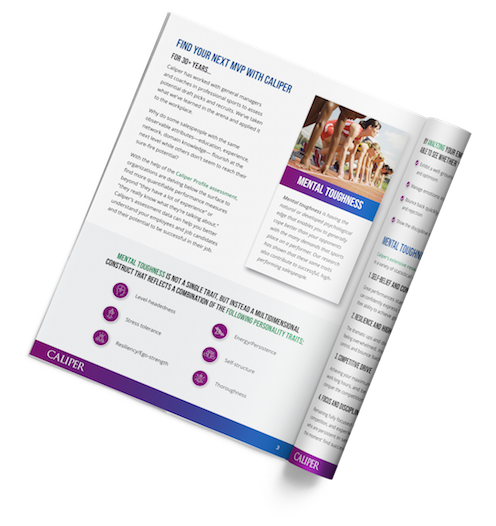 Mental Toughness in the Workplace
The Caliper Profile helps employers identify the intangibles that can determine whether an employee or candidate has the ability to reach their full potential and be successful in their role.
Analyzing candidate profiles can uncover attitude and personality traits that are indicators of potential. Whether you are looking for a salesperson that will remain composed under pressure or need a sales manager who can motivate and support their team, Caliper can help you find which candidates are innate leaders, or self-disciplined individual contributors.
For more information on how The Caliper Profile and our Analytics for Selection can help you better understand your employees, reach out to our experts today to get started.